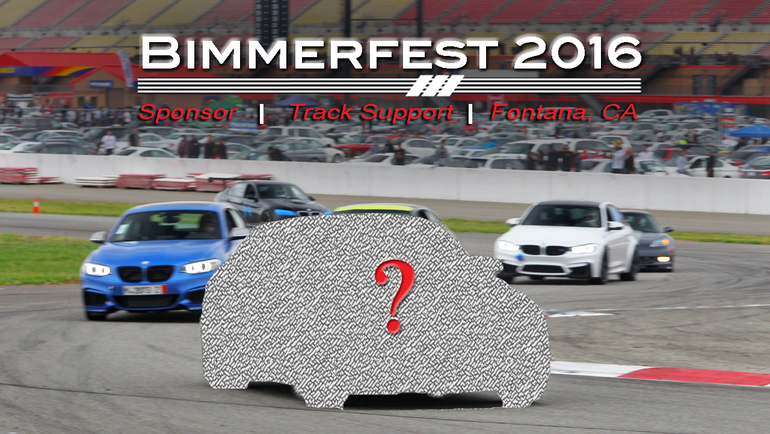 StudioRSR GEARED UP FOR BIMMERFEST 2016 AT AUTOCLUB SPEEDWAY
**StudioRSR will be at vendor BOOTH #221.
Click here for Event and Vendor Map
Fullerton, CA May 26th, 2016-
With several client builds ready to hit the track and new performance products to showcase, StudioRSR looks to the annual Bimmerfest gathering in Southern California to debut their latest BMW projects and provide trackside support to both their first-time and experienced driver clientele. As 2016 marks BMW's Centennial celebration looking to the next 100 years, StudioRSR will bring their new performance solutions for both older generation and newer model BMW's.
/

//// Featured Debut: TESSERACT rollcages for BMW F80 M3 and F82 M4 by StudioRSR
The last few months at StudioRSR have been in preparation of their new 4,800sq/ft facility in Orange County, California to cater to new manufacturing demands. While a full service center and client lounge has been available for the public at StudioRSR's main facility, the company's strict standards of quality control for many of the new innovations to be released demanded for more in-house development and fabrication.
Just weeks ago, the first product ready for release was installed on a BMW F82 M4. This new line of BMW F8x M3/M4 rollcages and harness bars, aptly named the "Tesseract", will debut at Bimmerfest 2016 installed in two vehicles. The first in an M4, to be displayed in ToyoTires booth and the second in an F80 M3 at Dinmann's booth (Booth #35-36).
StudioRSR's Tesseract bolt-in halfcage in Ian Ford's Targa Trophy M4 was powdercoated white to match Ian's overall Alpine White design for his daily-driven track car.
Above picture credit to Gustavo Gutierrez (IG: @ag_shots)
Ian Ford (IG: @doctorford) BMW M4 with StudioRSR Tesseract half-cage installed

The Dinmann F80 M3, which has called StudioRSR it's home for performance installations throughout it's continued evolution, will be sporting a customized version of the standard Tesseract half-cage by special request of the owner. A new release carbon fiber product to further enhance the car's performance aesthetic will be debuted on the car as well at Booth #35-36.

The functional and unique design of StudioRSR's Tesseract rollcages will immediately standout to anyone and befit the modern styling of the BMW F8x M3/M4.

Modular options and custom designs are available. StudioRSR representatives will be present both days of Bimmerfest to provide information.

**Wholesale enquiries, please email robert@studiorsr.com
/

/

/// Track-side Support
StudioRSR will be supporting and instructing for the founder of Euroklasse, Steve aka "Soofy", as he takes his long-awaited Widebody F80 M3, on the track Sunday morning. A low-boost setting will be used for the newly installed Pure Turbos 700whp setup. Steve's custom widebody M3 was built for purpose and is set to debut in Euroklasse's booth (Booth #22) on Saturday the 28th.
(Above picture: Euroklasse (IG: @euroklasse) Widebody F80 M3 to debut at Bimmerfest 2016)
Sunday the 29th will be StudioRSR's main day for instructing and supporting our clients and their cars around Auto Club Speedway. While StudioRSR's more experienced clients will be advised on improving their personal best times, the StudioRSR team is perhaps even more excited to introduce and share their passion with several clients who have been preparing their cars and are now ready to enjoy their first time on the track.
//

/

// BMW Motorsport Hommage: Prestige Marketing's GT2 E92 M3
Alongside the M4 at ToyoTires, StudioRSR is once again pleased to be part of Prestige Marketing's re-design of their VF-Engineering supercharged Flossman Widebody E92 M3. StudioRSR prepped this M3 for SEMA 2014 three years ago with a long list of performance upgrades and aesthetic customizations and have been providing service and maintenance since. This year, the new aero parts and livery to be debuted will honor BMW's 100-year Anniversary.

(Above picture: Sneak peak of the Hommage livery on Prestige Marketing's Supercharged Widebody M3)


///

/

/ Meet and Greet at the StudioRSR booth
All attendees, press, and vendors are invited to come to StudioRSR's booth near the main entrance of Vendor Alley to the right side closer to the Pit Garages. Other new products will be released on the first day of the event at StudioRSR's booth.

StudioRSR will be at VENDOR BOOTH #221. 
Click here for Event and Vendor Map
Brand Ambassadors will be at StudioRSR's booth on Sunday to help visitors sign up for the Giveaway.

Follow StudioRSR on Social Media to receive updates about the Giveaway:





More StudioRSR vehicles to see at Bimmerfest 2016:
StudioRSR E30 M3 - both days
Jesus's E92 M3 - both days
Jeff Z's E92 M3 - Saturday
Jeff V's E90 M3 - TBD
Kyra's E36 M3 - Saturday
Chris's E46 M3 - Sunday
Atif's F80 M3 - Sunday