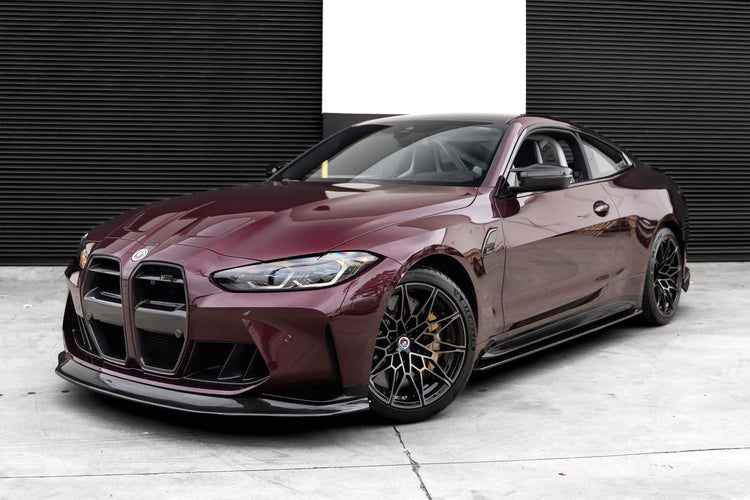 One of our most recent projects involved working on Gotchuckz Individual Wildberry G82 M4, to create a unique and eye-catching build. 
Starting on the front end of the car, We installed a number of carbon fiber parts to enhance the cars aesthetics. These included a Carbon Fiber Front Grille by Stradale Design, Carbon Fiber Twin Fin Ducts by MHC & Carbon Fiber Front lip by Streethunterdesigns. 
G82 M4 – Studio RSR
Moving to the rear of the G82 M4 we Installed OEM CSL Tail Lights, These Tail lights gives the car a individual look that sets it apart from others on the road.
OEM M Carbon Fiber Exhaust Tips G82 M4 – Studio RSR
Streethunterdesigns Rear Diffuser & Side Splats
StudioRSR G82 M4 Roll Bar 
StudioRSR BMW M4 (G82) roll cage / roll bar – Studio RSR
We also installed a number of carbon fiber components under the hood. These Include a Carbon Fiber Engine Cover by Eventuri, Carbon Fiber Strut Bar by Karbonius and a Carbon Fiber Battery Cover by Auto Tecknic.
The CSF G8x Intake Manifold is a high-performance upgrade designed to increase airflow and much more. CSF went ahead and got his Manifold powder coated white to match his white interior and white StudioRSR Roll Bar.
G82 M4 also received the CSF Front Mount Heat Exchanger and CSF Oil Cooler. The Front Mount Heat Exchanger features a larger core and improved airflow, while the Oil Cooler is designed to handle the increased thermal capacity generated by high performance driving.
G82 M4 Eventuri Carbon Intake
If you want that satisfying click when shifting through gears, These are the
paddles for you!
Gotchuckz Wildberry G82 M4 Mod List Built by StudioRSR:
- Full @csf_radiators cooling package
- OEM CSL taillights
- @eventuri_ CF Intake & engine cover
- @karbonius CF strut brace
- M Performance mirror caps
- M Performance Side markers
- M Performance exhaust tips
- M Performance armrest, knee pads, door sills, door pins, name plate
- @indiv.official Air vent
- @jqwerks Magnetic shift padoles
- @dinancars Mid Pipe
- @dahler_germany valve remote
- @indstyle painted reflectors
- @autotecknic CF battery cover
- @streethunterdesigns CF lip, side skirts diffuser, trunk lip, & rear bumper extensions
- @studiorsr Tesseract G82 Roll Bar