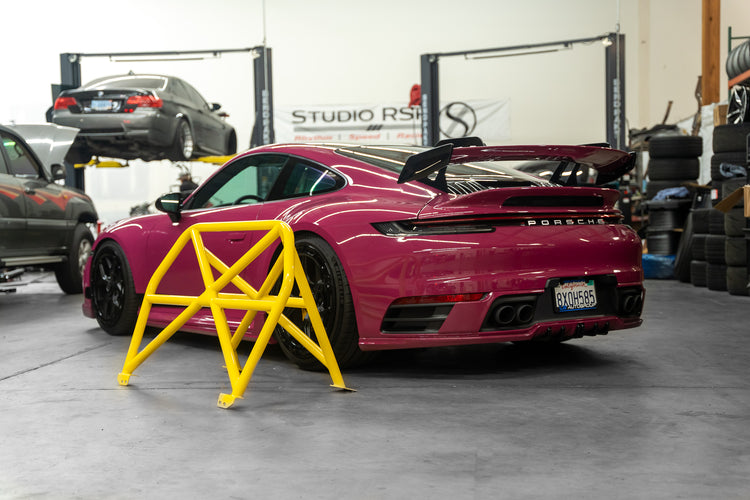 Companies always save the hottest products for SEMA debuts – for us, the 2021 SEMA show was no different. 
Right before we headed out to Vegas, the owner of Impressive Wraps brought us his personal vehicle, a Rubystone 992 Carrera, to get one of StudioRSR's flagship roll cages.
We created a 4-point roll bar, that's a 100% bolt-in design, finished with a bright yellow contrasting powder-coat. This specific product was designed to fit not only the Carrera, but the 992 GT3, and all other Porsche 992 models.
The car, with the new cage installed, was debuted at the SEMA Show in the Inozetek booth. 
Porsche 992 Roll Bar Features:
100% Bolt-in Design
No Welding Needed for Installation
NASA Racing Spec (as of 2016.5 Rulebook **Not Sanctioned by NASA)
4-Point Half-Cage
Wide-Radius Bends = Even Stress Distribution, No Metal Crimping, & No Tubing Wall Failure
Designed with Optimum Bolt Locations to Factory Mounting Points
Signature Design by Studio RSR
Proprietary CNC Machined Chromoly Interlocking Tubing Clamp
1.75" Tubing All-Around
100% Reversible
100% Interior Compatible
Over 6500 Color Choices to Choose From